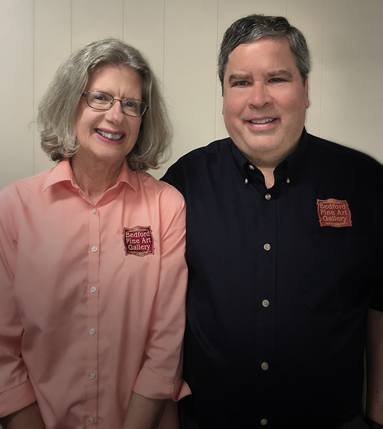 Joan and Jerry Hawk
We would like to thank the thousands of fellow art-lovers who explore our website, join us for email updates via Art Lovers' Niche, follow us on Instagram, and stop to see us at the gallery. Many of you are already familiar with Bedford Fine Art Gallery, but we want to take this opportunity to bring you up-to-date.
Background – We have always loved art and started collecting over 30 years ago. In the beginning, we thought a local art expert would be able to help us with our selections. We quickly found out; however, the so-called art expert was not honest with us about the paintings we purchased. We stopped seeing this individual and figured there had to be a better way to feel safe and trust our purchasing decisions. We, therefore, worked hard to buck the typical galleries and auction houses by creating a truly unique fine art gallery experience for our many customers.
Bedford, Pennsylvania – Joan was born and raised in Bedford, but we spent our first 31 years together living closer to Pittsburgh. We always dreamed of owning an older home. Long story short, we ended up purchasing our home in Bedford, which is on the street where Joan grew up. It was built in 1889 and, after the original family was not longer living there, served as a public library (where Joan would go to read many books!). From the beginning, we thought our Bedford home would be the perfect venue for a fine art gallery. We are also proud that Bedford has many great things to offer guests who visit the gallery: The Omni Bedford Springs resort, several great B&B's, many specialty shops and boutiques, great restaurants, and the list goes on!
Technology – When we were in college in the late '70's, there was one fortran computer that used key-punch cards for our computer science class! A lot has changed since then and we felt it is important to stay up-to-date with technology. Since the beginning of Bedford Fine Art Gallery, we have teamed with website design experts and are pleased that our customers find the site easy to navigate, full of representative images and videos, and packed with great fine art for sale. The proof of this is that a majority of our sales are via the internet to folks that were not able to visit the gallery in-person.
One big community – In addition to our Art Lovers' Niche and Instagram communities, we also help serve our local community. We are a part of the Southern Alleghenies Museum of Art (SAMA). SAMA is a fully-accredited museum that started in 1976 and has five museum locations that serve six counties in Pennsylvania. We feel fortunate to be able to help with programing for children's education, the elderly, and our veterans throughout the local communities.
Bottom line – Again, we would like to thank all our art-lover friends who have been with us while we are living the dream! We have worked hard to make Bedford Fine Art Gallery the most honest art gallery in the world. We have said it before, but it is needs to be said again – are customers are the best! We feel very honored when our customers share their many experiences with us, through their testimonials that we post on the website. Thank you.